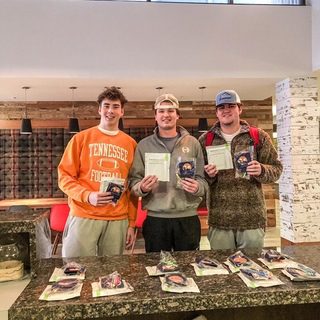 ---
Classes at The University of Tennessee are back in session and that means our residents have been making their way back to Knoxville, TN for another great semester here at The Standard at Knoxville. While we hope everyone had an amazing holiday break, we were excited to help kick off UTK Spring 2022 the right way with a variety of residence life events!
On Monday, January 24th, we started off our Welcome Back Week with Back to Class Kits in our Resident Club House Area. This was the first day of classes and what better way to show support for our residents than to offer them some common supplies and a unique notepad! The 47 residents who chose to pick one of our class kits up received a bag that had a couple of mechanical pencils, a highlighter, a pen, and a coozie. These residents also received a Rocketbook Notepad that allows them to write their notes down and then scan them into whichever cloud they would like!
Day two of Welcome Back Week, we held Breakfast On The Go in our Clubhouse Area. Residents were surprised and grateful to pick up a free, fresh Chick-Fil-A biscuit on their way to class. We gave 240 chicken, sausage, and plain biscuits as well as 3 gallons of sweet tea away to residents on their way to class! This was a great way to create a sense of community and interact with residents before their busy schedules took over.
On Wednesday, January 26th, we held Grocery Bingo in our Study Area. This event created a competitive spirit among 28 of our residents as we drew numbers live on Instagram and had residents chat with one another throughout the live feed. There were three different prizes available to win. These included the ingredients for a pasta night dinner, a movie night, and an ice-cream dessert! Residents emailed their screenshots to us if they had a winning bingo card and we delivered the prize. After the event, we had people already asking when we could do it again.
For day four, we held Virtual Yoga in our Resident Club House Area. Residents could log on to our zoom link and learn about the cultural aspects of yoga and its physical benefits as well as enjoy a free 15-minute yoga session. We offered random giveaways during the event that included a Yoga mat, water bottles, and fitness journals. Only two residents participated, but this was most likely due to the event's scheduled time. The residents that did participate were excited to receive their giveaway prizes!
Our very last event of Welcome Back Week, we held Yappy Hour in our Resident Club House Area. We put together pup cups and had dog and cat toys available for residents to pick up for their pets or bring them down to the lobby to enjoy. Residents loved being able to pet and interact with the animals. Overall, 38 residents were able to bring their animals down and attend.
It was an awesome week getting our residents geared up for a successful semester at the University of Tennessee! We love having the opportunity to provide a best-in-class, UTK off-campus housing experience to our residents, and hosting a variety of engaging events is just one of the many ways we strive to accomplish that. From the whole team here at The Standard at Knoxville, we wish everyone an amazing Spring semester!